Comodo Once Again Acknowledged as the World's Leading Certificate Authority
Comodo Recognized as World's Leading SSL Provider
Guess who has topped the chart as the world's leading certificate authority? You guessed it right: it's none other than Comodo. Who else could it be?
This headline won't come as a surprise to most as Comodo has been leading the march against HTTP for more than a decade. Every single year, Comodo gets recognized as the most prominent CA by various platforms. This time it's the 2017 TLS Telemetry Report that has identified Comodo as the most-adopted CA in the world. Conducted by F5 Networks—formerly known as F5 Labs—this study is "based on a sampling of more than 20 million SSL/TLS hosts worldwide."
Among the many interesting findings, the report ranks Comodo as the most popular certificate authority on the planet. This report encompasses critical findings from two of the most popular hostnames—Alexa and OpenDNS.
In the 2016 TLS Telemetry Report, Alexa "Top 1 Million" was used as the primary source of hostnames. Many researchers avoid the Alexa list due to the inconsistencies. As a result, they've switched to OpenDNS which is capable of phishing detection and threat intelligence. This report incorporates sites from both hostnames.
Combining the data of both hostnames, almost two million websites were scanned as a part of this study, and it was found that around one-third of the sites (672,000) have SSL/TLS enabled on them. Out of all these sites, 160,377 have been secured using Comodo's SSL certificates; leading the chart by the healthy lead of almost 68,000 certificates.
Here's the breakdown of the leading certificate authorities: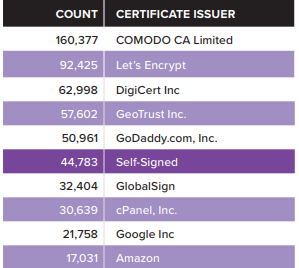 Source: 2017 TLS Telemetry Report
Speaking of this accolade, Bill Holtz, CEO, Comodo said: "Comodo CA has an established mission to maintain the highest levels of trust amongst our customers. We are proud to be the world's largest certificate authority and maintain our leadership position in the CA market."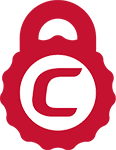 Save Up 85% On Comodo SSL Certificates
Tip: Save by buying your SSL certificate direct instead of through your web host. We sell Comodo SSL certificates at up to 85% off.
Compare SSL Certificates