How to Install an SSL Certificate on Android
SSL Installation on Android has never been easier!
The dangers in the virtual world keep increasing, and so does the significance of cryptography. As a result, many organizations have started using digital certificates for communication and authentication purposes. Being the most popular mobile OS in the world, you simply cannot afford to leave Android out and that's why we keep getting asked: "How do I install an SSL certificate on Android?" Well, we are more than happy to help you out with the installation process.
Before You Begin
Before getting on with the download and installation, here are the things you should have a close look at:
The certificate file must be in .crt or .cer format. If it's not, convert it using our SSL Converter tool.
The key files must be in .pfx or .p12 format.
You'll receive your certificate files through e-mail and you'll have to create a PKCS#12 password or passphrase.
Whether you have the latest Android version or an older one, this process should work in any case.
Here's how you can install an SSL certificate on Android
Now that you know everything there is to be known, let's install your certificate on your android device. Follow the steps below for it:
First, go to Settings
Now go to Security > Install from Phone Storage/Install from SD Card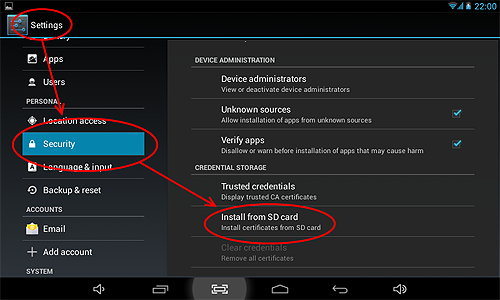 If you don't see this option, go to Install from Phone Storage/Install from SD Card by navigating through Advanced Settings > Security or Advanced Settings > Privacy.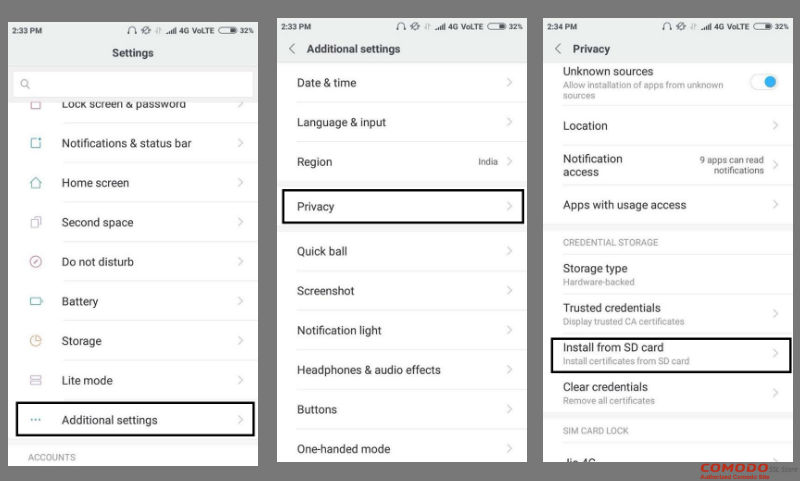 Now find the SSL Certificate you had downloaded and open it.
Once you click on it, it might ask you to enter your PKCS#12 password that you had generated at the time of certificate download. Enter it.
All done? Great. Now the certificate has been added in your device's trusted credentials. You can alter the settings of your certificate as you want to. You can name it as you want, and you can also control its Credential use – VPN and Apps or Wi-Fi.
Good job!