Predicting Cyber Security Threats in 2018
The top 7 biggest cyber security threats for 2018
If you think 2017 was the worst regarding cyber security, wait for 2018. As much as we hate to say it, the cyber-attacks will reach new highs in terms of their volume and sophistication. A big part of the reason goes to the rising number of internet users. Whether it's paying bills, banking, playing games, working remote, or social media—the internet is getting bigger with each passing day. Unfortunately, this perpetual evolution of Internet also gives birth to new opportunities for cybercriminals.
Every year, we see hackers and fraudsters targeting new domains – "exploring new possibilities" in their terms. 2017 saw a frightening number of data breaches and ransomware attacks. From Fortune 500 companies to small organizations to healthcare organizations to Government Agencies to cybersecurity companies themselves, the perpetrators didn't leave a single stone unturned.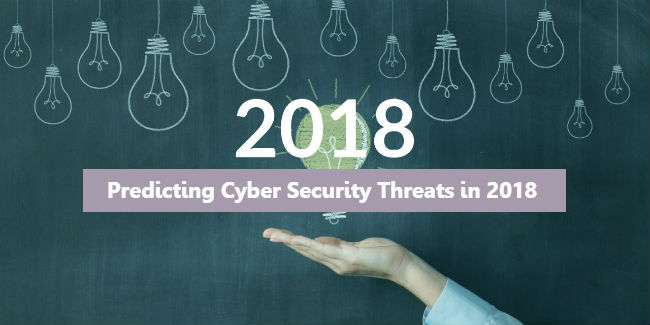 We don't like to say it, but 2018 will be worse. So, with a pessimistic mind and heavy heart, here are our top 7 cyber security threats predictions for 2018.
7.      More Attacks on Cryptocurrencies
As on November 2017, there are 1324 cryptocurrencies in total, and this number is bound to rise. You know what? Even you can create your own cryptocurrency (Not kidding!).
The hype and hysteria surrounding cryptocurrencies presents an irrefutable opportunity to hackers. In the latter part of 2017, there has been an uptick in these attacks. This could be the sign of the times to come.
6.      Ransomware-as-a-Service (RaaS) On the Way Up
At first, the term 'Ransomware' seemed like a comet from the sky to most internet users, but now the dirt has settled. However, it isn't all of it. In the form of Ransomware-as-a-Service (RaaS), these attacks have gone up a notch. Such "services" on the Dark Web enable wannabe-hackers with very little or no hacking skills to execute ransomware attacks and extort money out of people.
Remarkably, there have been traces of RaaS on the open web as well. From our point of view, this evolution of ransomware will continue in 2018.
5.      More High-Profile Names Will be Targeted
If there's one thing that hackers love more than money is noise. The bigger they are, the harder they fall and the louder the noise it generates. Swedish Government, NHS, Equifax, NSA, SEC, Uber, Dun & Bradstreet…these are some of the biggest names that felt the wrath of cybercriminals in 2017.
Contrary to popular belief, such organizations are not as secure as we think they are. There are and always will be cracks that could tear down the entire building no matter the size of the organization. 2018 will pretty much follow the same suit.
4.      Social Engineering Attacks Will Continue to Grow
For many organizations, security is a hurdle that they 'need to' tackle. It's time we stop seeing security as a hurdle and start seeing it as a tool. As long as they continue to see it that way, the situation won't get any better. That's because most of the attacks taking place have a human element behind them. One click at the wrong place and bam! Malicious files could be doing rounds in your computer's veins, and you won't have a clue.
It's no secret that the employees are the primary reason behind most cyber attack incidents. Almost 1.4 million phishing websites are added every month. Yes, EVERY MONTH! Unless and until the organizations realize this and start training employees better, 2018 could turn out to be an even worse year.
3.      IoT Attacks Will Get Bigger and Better
When attacked, 'Internet of Things' becomes the 'Interruption of Things' and we saw a plenty of it in 2017. The most common type of attacks when it comes to IoT is the Distributed Denial of Service (DDoS) attack.  These attacks are performed using botnets. It means that a 3rd entity takes over your entire network of IoT devices and you could be left high and dry.
For example, you might want your toaster to give you a crispy bread in the morning, but what it might be doing is mine cryptocurrency – using your electricity. We're not kidding, such things have happened!
With 91% rise in 2017, DDoS attacks proved to be the best bet in terms of IoT.
Unlike our traditional devices, there's a sense of control-lessness when it comes to IoT devices. That's why protecting them poses a significant challenge and will continue to do so in 2018.
2.      State-Sponsored Cyber Attacks Could Go to The Next Level
In 2017, some nations were accused of committing cyber-attacks on other countries and their institutions. However, there's no way to confirm such "accusations" as there aren't many ways to trace it to the nation-state hacktivists. That's why such attacks are so effective. Even if a country has been attacked, they don't have a clue whom to go after – who the hell is Fuzzy Bear? With rising political tensions in many parts of the world, such attacks could make some serious noise this year.
1.      Brace Yourself for 'Daddy' Data Breaches
Accusations, resignations, lawsuits, firings…2017 was nothing short of a classic Hollywood movie in terms of data breaches. From Game of Thrones to Equifax to NSA to UBER…every sector you could possibly think of was targeted by perpetrators in 2017. No surprises that we saw data breaches shattering all the records. This picture is likely to continue this year. So, fasten your seat-belts to watch some more action!