The Value of UCC SSL Certificate
What is a Digital Certificate?
It is an electronic "password" issued post verification by a trusted body known as a certificate authority (CA) to ensure that messages are transferred and received securely over the wire by verified users who are what they claim to be.
What is a UCC SSL Certificate?
Multi-domain SAN/UCC or unified communication certificate is used to host multiple domains with a single certificate on a single IP. The additional domains get listed as subject alternative names or SANs while the base domain gets listed under the common name or CNAME field. Depending on the CA, there is an upper limit to the number of domains that can be included on a single certificate.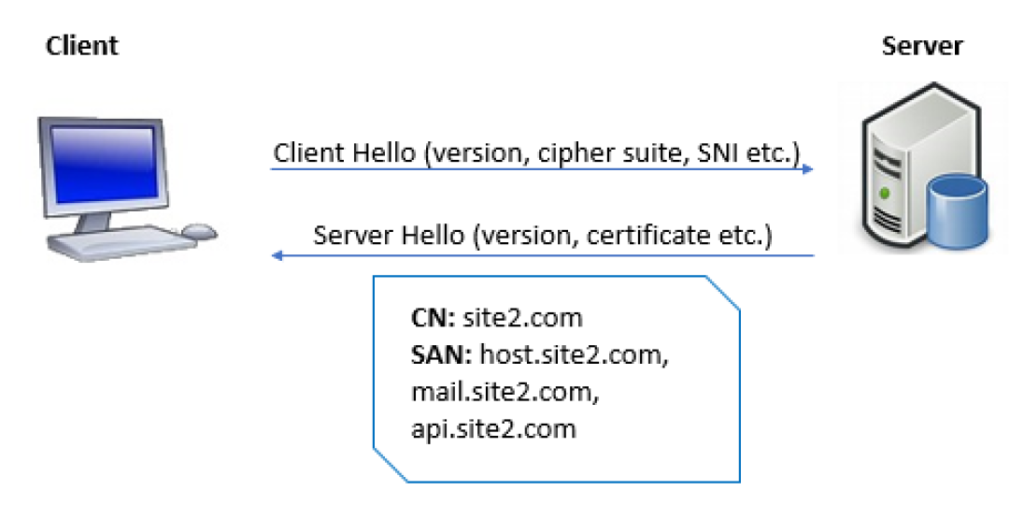 Why Do I Need an SSL Certificate for Microsoft Exchange?
Before you can understand the need for an SSL certificate for a Microsoft Exchange Server, it's useful to look at its features and the nature of the information that is processed by it.
Features of MS Exchange:
Microsoft's ActiveSync Technology allows users to interface with mobile devices for easy access to their Exchange accounts when on the move. This gives them easy access to mailboxes, calendars, tasks, and contacts that are synchronized continuously in both directions.
Outlook Web Access (OWA) provides a web-based solution to access emails from anywhere for MS Exchange accounts.
The Autodiscover service allows users to configure their mobile devices with minimum steps based on login credentials and provides access to an offline address book and unified messaging.
The Outlook Anywhere software allows end-users to access corporate emails with Outlook 2003, 2007, and 2010 — even the outside of the corporate premises without the additional step of logging into a virtual private network (VPN).
Microsoft Lync Server also known as Office Communication server, offers a range of solution such as instant messaging (IM), voice-over IP (VOIP), ad hoc, audio and video conference using several domains, etc.
Retention, discovery and email archiving for maintaining records and simplifying the process of business communication.
Backup and disaster recovery features offer automatic failure recovery that provides database-level recovery from the server, database, and network failures.
It provides deployment flexibility since it can be deployed in the cloud, on-premises, or as a hybrid model.
It has provisions for sensitive content monitoring by using features like tracking email content and preventing any illegal content distribution.
It provides users with single inbox access to email as well as a voicemail from within the same platform.
Exchange Administration Center can assign server permissions and delegate role-based access.
Considering the above features, it becomes evident that we're dealing with sensitive data including but not limited to PII (personally identifiable information) like names, contact information, email, and organizational data for businesses. Organizations not only use Microsoft Exchange Server to centrally manage, distribute, and store company emails but also to share tasks, schedules, and contact details.
How an SSL Certificate Protects PII and Other Sensitive Data
With new applications and features being introduced, there is an even greater security risk as the threat landscape now increases ten-fold. This is where SSL steps in — it authenticates the Exchange server to connecting devices and facilitates an encrypted session between the server and the client to avoid eavesdropping while the data is in transit. Apart from having solutions such as data loss prevention (DLP) software, anti-spam, and advanced antivirus software in place, it's also imperative to ensure the client and the server communicates over a secure connection using HTTPS.
A UCC SSL certificate, also known as exchange server SSL certificate, enables users to secure multiple domains and multiple hostnames with a single certificate on a single IP. With all the exchange services being encrypted, a malicious user will not be able to sniff the traffic. Comodo UCC certificate, designed exclusively for Microsoft Exchange and Office Communications infrastructures, provides business validated, up to 256-bit encrypted SSL certificates with unlimited server licenses and 24/7 support.
Comodo has also combined the benefits of a UCC SSL certificate with a wildcard SSL certificate that allows you to not just secure multiple domains but also an unlimited number of subdomains all with a single certificate.
How to Choose the best UCC Certificates?
"Best" is a term that's relative to the user's requirements and business needs:
the number of domains and subdomains that need to be secured;
whether the certificate needs to be organization validated; or
if the user needs a combination of wildcard and UCC SSL certificate.
Once the needs and end goals are outlined, it becomes a simple matter of finding a solution that fits the bill from a wide range of product offerings.
| Differentiator | Comodo Domain Validated UCC SSL Certificate | Comodo Unified Communication SSL Certificate (OV) | Comodo Unified Communication Wildcard SSL Certificate (OV) |
| --- | --- | --- | --- |
| Type | Domain Validated UCC SSL Does not require verification from the business; therefore, the name of the company is not present in the certificate issued. | Organization Validated UCC SSL It requires customers to complete telephone verification; the name of the business is included in the certificate to add legitimacy. | Organization Validated UCC Wildcard SSL Requires customers to complete telephone verification as well. |
| Support | MS Exchange and OCS environments | MS Exchange and OCS environments | MS Exchange and OCS environments |
| Secure | Multi domains | Multi domains | Multiple domains along with an unlimited number of sub-domains |
| SAN | 2 SANs included; with SAN control, one can adjust the domains listed in the certificate. | 4 SANs included; with SAN field control, one can adjust the domains covered by the certificate. | 2 SANs included; SAN-supported which lets the user adjust the domains covered by the certificate as needed. |
| Encryption Strength | 128- to 256-bit strong encryption | 128- to 256-bit strong encryption with a 2048-bit signature key | Encryption strength up to 256-bit with a 2048-bit signature key |
| Re-Issuance Policy | Free unlimited re-issuance | Free unlimited re-issuance | Free unlimited re-issuance |
| Speed of Issuance | Issued in less than 10 minutes | 1-3 days | 1-3 days |
| Browser Compatibility | 99.9% web and mobile browser compatibility | Trusted by more than 99.9% of major browsers | Recognized by 99.9% of mobile devices and web-browsers |
| Server License | Free unlimited server licenses | Free unlimited server licenses | Free unlimited server licenses |
| Site Seal | | | |
| Warranty | $250,000 | $250,000 | $250,000 |
| Price | $116.82/year | $116.82/year | $265.78/year |
| | SHOP NOW | SHOP NOW | SHOP NOW |