How Do I Install a Secure Email Certificate in My Outlook?
A secure email certificate is the only way to keep your emails secure end-to-end
Hackers continually try to find new ways to steal data from businesses. That's why it should come as no surprise that 91% of phishing occurs via email. As many as a million phishing emails containing the dreaded Emotet trojan have been known to be sent in a single day!
But how can you combat this threat? Having a secure email certificate (also known as S/MIME certificate or an Outlook email encryption certificate) can help your company do precisely that. Its security features prevent things like phishing and builds a trusted network around your company, so your email recipients know who's who.
What Secure Email Certificates Are and Why You Should Have One
A digital certificate used to authenticate the identity of the email's sender and to encrypt the email is called an Email certificate or S/MIME (Secure /Multipurpose Internet Mail Extensions). When a person uses an Outlook security certificate, they can encrypt the contents of the email to protect it from intruders and can also sign the email to validate their identity.
Ever heard of SSL certificates? Secure email certificates work in a similar way — at least on paper. What the S/MIME protocol does is implement a public and private encryption key into the email delivery process, which allows the email to be encrypted before it is sent. This process, known as data at rest encryption, turns your plaintext email into gibberish so it stays secure until your intended recipient decrypts it with their private key.
Not only this, but if you use an email encryption certificate in Outlook to encrypt your messages, your identity will also be verified. Who would you trust more — Thomas, who's labeled as a "trusted seller" and sends an encrypted email, or Harry, who isn't identified as such and sends plaintext information? (I seriously hope you would choose Thomas).
Now that you know what an email certificate is and why it's useful, let's discuss some information you'll need to gather to begin the process of installing your new email signing certificate.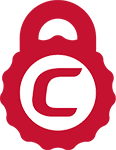 Save Up to 78% on Comodo Email Certificates
Secure the email of all of your employees with Comodo Secure Email Certificates.
Shop Now
You'll need to do the certificate issuance process in Mozilla Firefox, so make sure you've got it installed on your computer.
Before we can start the process of installing your new email security certificate, we'll need to gather a few bits of information, such as:
Organization details. After purchasing your email certificate, you'll be prompted to generate your certificate. To do this, you'll need the details of your organization, such as its name, location, etc.
Generating the certificate (in Mozilla Firefox). After you fill out the organization details form, you'll be sent two emails — one with a hash code and one with a link. To generate your certificate, you'll need to click on the link provided and paste the hash code into the provided text box. Once this is done, the certificate will be stored within your browser.
Exporting your email certificate. After the certificate is stored in your browser, you'll need to export it. To do this, head to Options, then select Privacy and Security. In the Certificates tab, click View Certificates. Here, select the email certificate you wish to export and click Backup All, then OK. This will open a pop-up where you can save your email certificate somewhere that is easy to access.
How to Install Your Secure Email Certificate in Outlook
Open Trust Center Settings in Outlook. Select File on the top left corner of your screen and select Options. After that, go to the Trust Center section at the bottom of the list. Once you're on this screen, click on Trust Center Settings.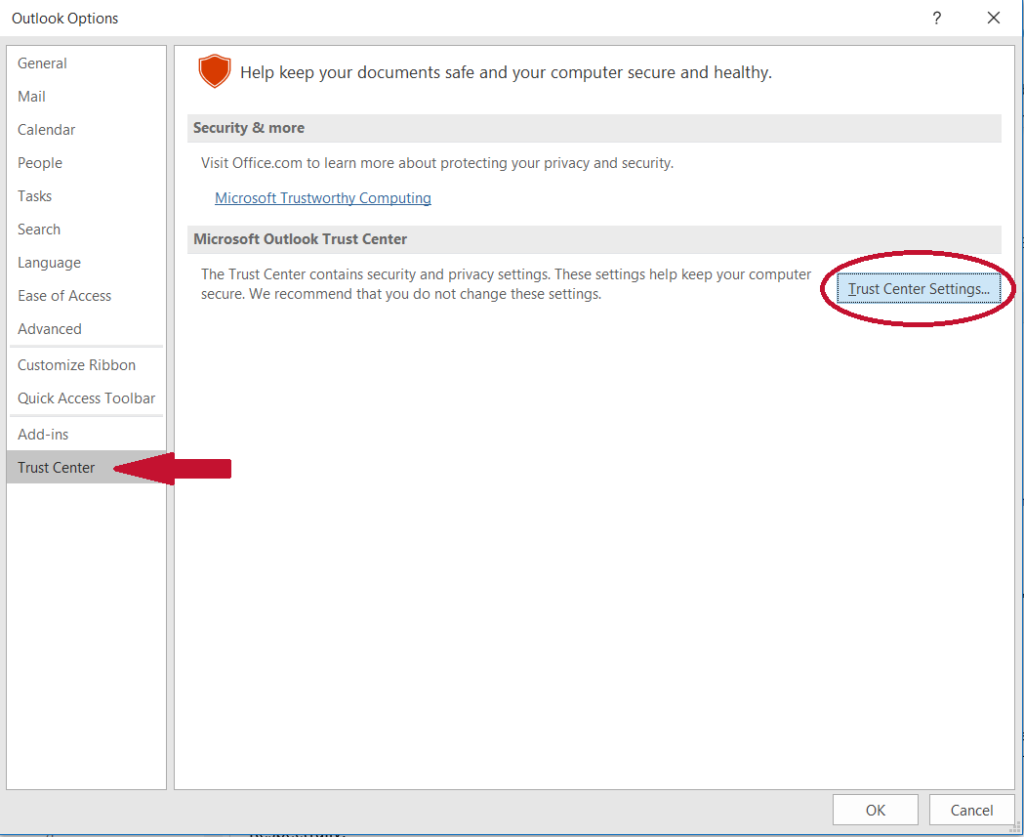 Choose the email address where you want your email certificate to be installed. In the new Trust Center window that pops up, select the Email Security section. Choose the appropriate email address from the Default Setting dropdown box and select Settings.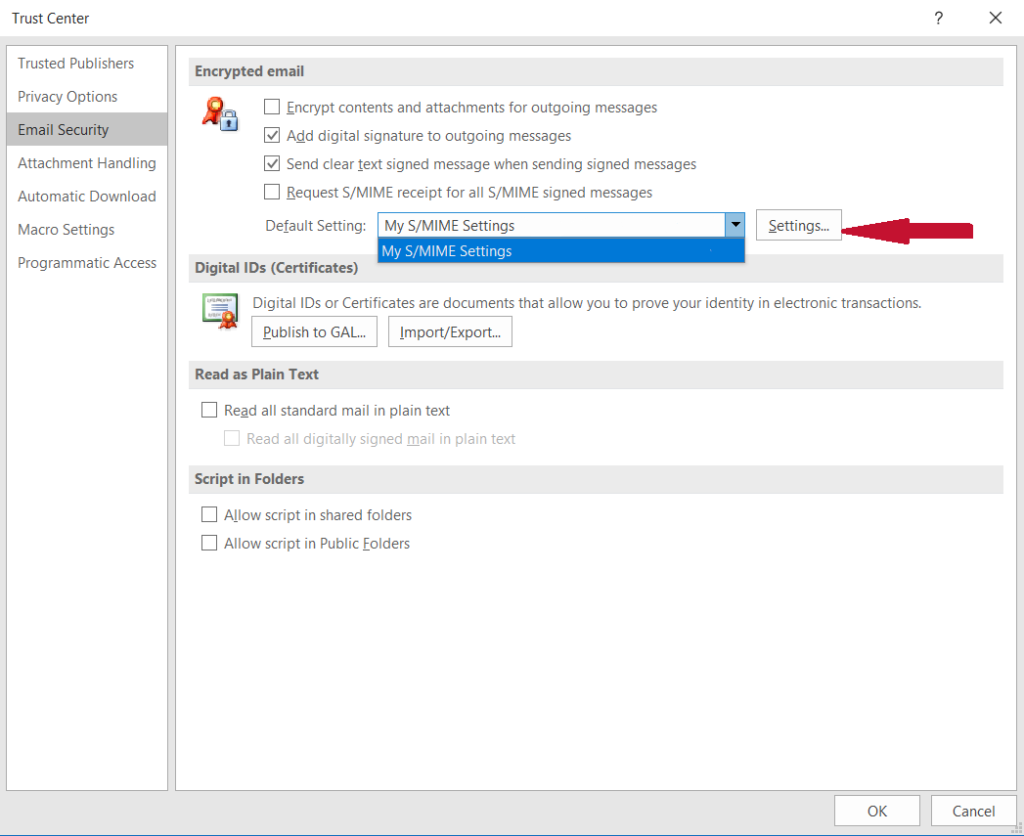 Select your Email Certificate. In the Change Security Settings window, select Choose next to the Signing Certificate text box.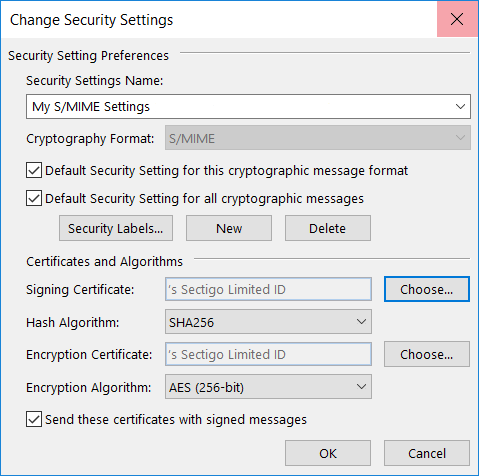 After doing so, the following window will pop up:
Note: Your list may look different, but the process is still the same.
If it displays "more choices" as it does above, that means you have multiple certificates available. To choose a specific certificate, simply click on the more choices link and select the certificate you wish to use. Press OK.
That's it! Your new email certificate is now installed.
How to Sign Your Emails Using Your New Outlook Email Encryption Certificate
Although you've installed your new email security certificate, you may not have a clue how to use it. If that's the case, here's what you need to do to make the emails you send secure:

Before sending your email, click on the "Options" tab and select Sign. That's it!
You can also encrypt your email if needed. To do so, select the Encrypt button and click on Encrypt with S/MIME.
After doing so, any emails you send should be both secure and encrypted!
What is S/MIME? How does it work? Do I need S/MIME?