About Comodo CA Limited, The #1 Issuer Of SSL Certificates In The World
More websites trust Comodo CA Limited than any other brand!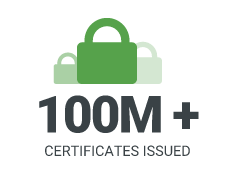 Comodo is in the business of creating trust online. After all, the internet will never reach its full potential if it doesn't inspire the kind of trust that lets you interact and do business.
Comodo CA, Ltd. (now Sectigo) is the foremost Certificate Authority in the entire world. With over 42.5% of the SSL market share, more websites trust Comodo CA certificates than any other brand. Whether you're running a small personal blog or you're an Enterprise-level e-merchant, Comodo CA supplies world-class encryption products for every scope and cost point. You can sleep easy when your website is secured by a Comodo CA SSL certificate.
Authenticating Business Websites
Before any business can be done on a website, trust must be established. And authentication is the way that trust is built. Comodo CA Limited authenticates businesses, in the process confirming their legitimacy. This verified proof of identity lays the foundation for the trust that will help facilitate all online business.
View Comodo EV SSL Certificates
Securing Information
Encryption isn't just vital nowadays– it's required. Comodo CA Limited issues SSL certificates that facilitate powerful encryption to make sure that your data is secure while it's in transit. Comodo's universally trusted Public Key Infrastructure serves as the backbone of its information security. Protect your website with the best – a Comodo CA certificate!
Code Signing
Comodo CA is a proud provider of code signing certificates for both organizations and individual developers. Code Signing provides users with proof of identity as well as assurance that the software being downloaded comes as intended. Code Signing is required by all major browsers.
View Comodo Code Signing Certificates
Email and Document Signing
Comodo's Personal Authentication Certificates are critical for any business looking to add authentication and ensure data integrity on emails and other documents. A Comodo CA certificate protects your emails and documents with world class authentication and encryption.
View Comodo Personal Certificates
Comodo CA's team of forward-looking experts
For over 20 years Comodo CA has been in the business of building trust and maintaining data security. With a team of over 600 highly-trained, forward-looking security specialists, you can rest assured that at any given time Comodo is working to make the internet a safer place.