What Is a Website Security Certificate and Why Do I Need One?
A deep dive into what a website security certificate is and why you should get one for your ecommerce website
Do you want people to find your ecommerce website? And do you want them to feel comfortable and confident using it to make purchases? Then you need a website security certificate, or what's known as a website certificate for short. Why? Because it'll help you to achieve all of these things and more.
We're going to break down what a website certificate is and how it's used. Then we'll cover some of the types of applications that will help you decide which type of certificate you need for your ecommerce site.
What Is a Website Security Certificate?
In a nutshell, a website certificate is actually what's more commonly known as an SSL/TLS certificate. It's a digital certificate that helps you to assert identity and ensure data integrity on your website. It does this by using HTTPS, or the secure version of the hypertext transfer protocol, to facilitate a secure, encrypted connection between the two parties — the client (the site visitor's web browser) and your web server (the website they're connecting to).
This helps to protect the information that's exchanged between the client and your web server from man-in-the-middle (MitM) attackers by creating a secure communication channel. It's much like talking on a secure phone line
Who Issues Website Certificates?
Most commonly, these types of certificates are issued by trusted third parties that are known as certificate authorities, or CAs for short. These entities are responsible for issuing digital certificates that enable:
email server and website security (SSL/TLS certificates),
software security and integrity (code signing certificates),
email end-to-end encryption (email signing certificates), and
device integrity (device certificates).
They're also responsible for managing and revoking the public keys and credentials that're used for data encryption. So, what makes these entities so trustworthy? All CAs are required to adhere to standards that are outlined by a body of CAs, web browsers, and device manufacturers that's known as the CA/Browser Forum, or CA/B Forum for short.
Types of Website Certificates
Website security certificates, much like ice cream, come in a variety of flavors. These certificates are typically broken down into two main categories by validation levels and functionalities.
Website Security Certificate Validation Levels
There are three types of validation for SSL/TLS certificates:
What this means is that for a certificate authority to issue a website certificate, they first need to verify that the person or organization requesting the certificate is who they claim to be and that either their domain and/or organization is legitimate. Domain validation verifies only the domain, whereas OV and EV validation verifies information about the requesting organization to ensure its legitimacy.
Website Security Certificate Functionalities
When we talk about the functions of SSL/TLS certificates, we're talking about what they help you secure regarding your website. There are several types of website certificates: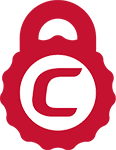 Save Up To 80% When You Buy SSL Certificates Direct
Tip: you can get the lowest price on SSL certificates when you buy direct instead of through your hosting company.
Buy SSL Certificates
What a Website Certificate Looks Like on Your Website
So, how can you tell whether a website uses a website security certificate? Look at the web address bar. If there's a padlock symbol, it means that there's a website certificate (SSL/TLS certificate) installed on the server. But what it doesn't guarantee, however, is that you're connected to a legitimate website. What helps you verify this is the authentication aspect of website security certificates. The padlock will look like this in Google Chrome:

For example, this is what it looks like in Firefox when someone uses an extended validation (EV) website security certificate on their website: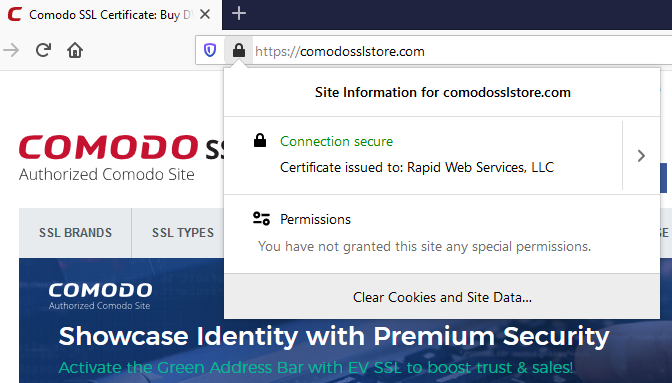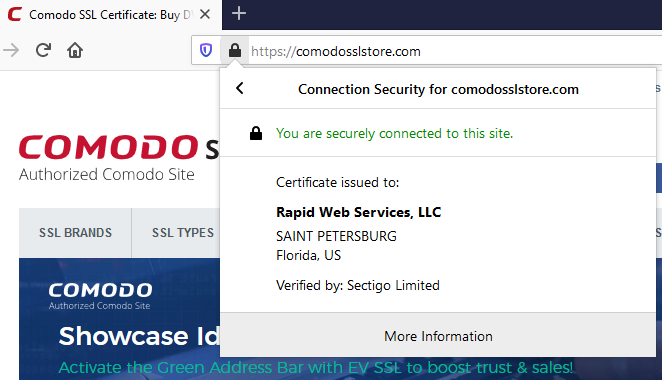 As you can see, it displays not just the company's name but their verified location information as well.
Why Do I Need a Website Security Certificate?
With all of this in mind, you may be wondering whether you even need a website certificate. The answer, regardless of whether you're an ecommerce business or a general information site, is unequivocally yes — for multiple reasons!
Show Google That You Care
Google has made HTTPS a component of its search algorithm in that websites must use the secure HTTPS protocol (instead of the insecure HTTP one) to rank via its search engine. So, if you want a shot at being able to appear anywhere searchers can reasonably expect to find you via a search engine, then you need to play by their rules.
Avoid Warning Messages
Websites that don't use HTTPS will display ugly "Not Secure" warnings to site visitors. Such a warning is a great way to drive away site traffic and push them straight toward your competitors.
Assert Identity
Want people to know that you're you? Then prove it by using a website certificate with OV or EV validation. This will enable your organization's information to appear in the certificate information (OV) or in the browser (EV).
Establish Trust
Trust is an important thing for any website — particularly ecommerce businesses and organizations that deal with customer information and donations. A website certificate helps to establish trust regarding your website through encryption and identity. If users and browsers recognize that your website is secure (encrypted) and can identify that your site belongs to a legitimate business or organization, then they'll be more willing to trust it.
Considering that research from the Baymard Institute indicates that nearly 20% of users abandon their shopping carts because they "didn't trust the site with their credit card information," trust is essential!
To Protect Your Business and Customers
A great thing about commercial website security certificates is that they come with warranties from their issuing CAs. For example, here at ComodoSSLstore.com, our warranties range from $10,000 to upwards of $2 million!
Choosing the Right Website Certificate
It's important to choose the right SSL/TLS certificate for your website and not just buy any ol' one. The first thing you'll want to do is decide which type of certificate you're looking for in terms of both validation and functionality.
In terms of validation, figure out how much identity you need to assert. Some websites (such as informational websites) can get away with a DV certificate if they don't collect, process, or otherwise hand any sensitive or personal information. But if you're an ecommerce business that handles customers' personal information, you'll want OV as a minimum — ideally an EV certificate.
If you're an ecommerce business with a single domain and lots of subdomains, a wildcard SSL certificate would be a good choice for you. But if you're a large organization with multiple domains and subdomains, a multi domain wildcard would better suit your needs.
How Do I Get a Website Security Certificate for My Ecommerce Site?
Not sure where to start? We've got you covered with this great resource about how to get an SSL certificate for your website.
At ComodoSSLstore.com, we offer the best selection of SSL/TLS certificates from Comodo CA and its cost-effective (and reputable) sub-brands at the best prices. See for yourself what a website certificate can do for your ecommerce website: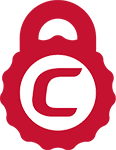 Save Up to 86% On Website Security Certificates!
You can typically save a significant amount by buying your SSL certificate(s) directly instead of through your web hosting company. We sell all Comodo CA brand and sub-brand SSL certificates starting for as little as $7.02 per year!
Compare SSL Certificates